Hello,
Figured I'd make a new post for the grow room. I'm a complete novice; I've watched too many videos and read too many posts and/or maybe I smoked too much grass
Anyways I have two rooms. I built this ugly enclosure out of 2x4's. so I have an 8' high 3x4' room. all seedlings and young plants stay on the bottom. Using 24" a grow flourescent and the light from an Aerogarden. I use a 5 gal garbage can as an auto drip system with 18-18-21 nutrients everyday for 2 minutes. 18/6 hour light cycle.
The top section has a 250w autoswitch HPS/MH all in one ballest light. Once a plant reaches 4 nodes, I put them under this lamp. 20 gal auto drip system now using the same nutes. 12/12 hour light cycle. Fan for circulation and an exhaust fan I have piped outside.
-
This image was taken to remind me of my first major mistake. Dont get lazy and NOT install a drain on the top water basin. I'm not sure where 10gallons of water went but the plants survived the soil rinse.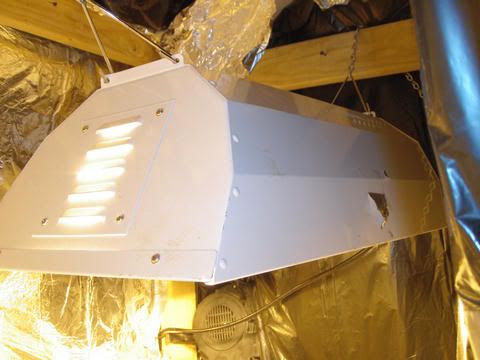 I have another baby ready to shine upstairs.
This is from last month. the plant on the far right is curing now (see my other post). I killed three plants and four were males
Damn males.. only one female left.
-
So I'm open for ideas and questions.. right now I'm broke though. Need employment. I know the foil has to go soon..